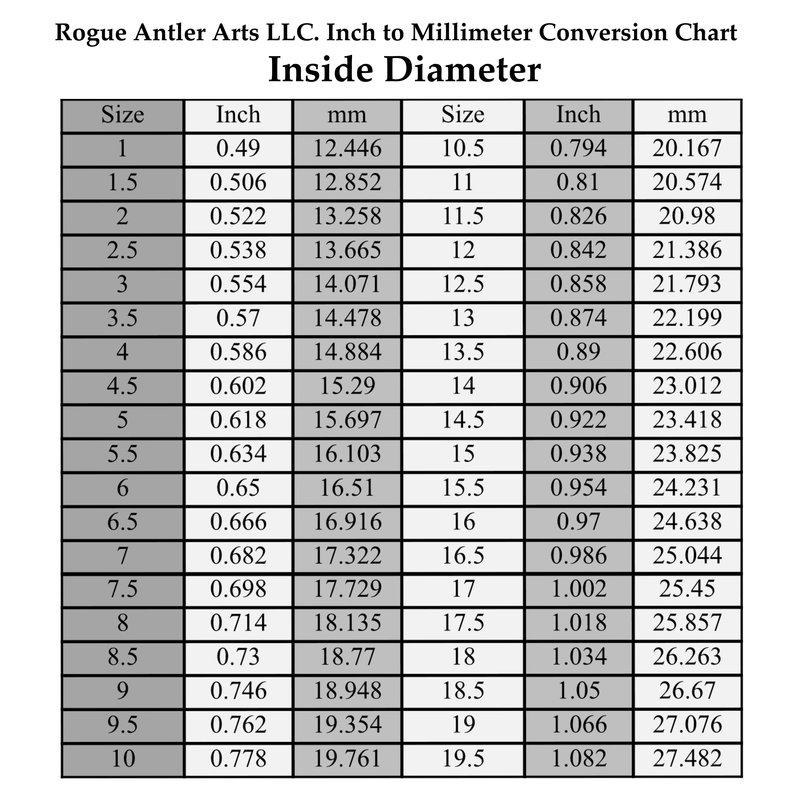 To ensure a proper fit, please use these measurements as a guide. If you do not understand them, your Jeweler will.
If you have a ring that fits and is about the width of my rings (8-8.5mm), all you need to do is get the inside diameter measurement from your Jeweler or on your own if you have calipers.
If you are starting from scratch, your first step is to determine the approximate width of the band you would like to order. All of my men's bands are 8.5mm wide. I highly recommend ordering these sizing bands as they are the same bands I use to size my customers in person and are extremely accurate. It takes the hassle out of sizing. Link below https://surefitringsizers.com/collections/consumer-sure-fit 
If you do not want to order a whole set, and know your approximate ring size, they have an option for that as well. 
I cannot make my rings smaller; however, I can machine them up half size to a size bigger. I charge $50 for the machine work because I have provided exact measurements. If you order incorrectly, that is not my fault, but I can make them bigger, so you are in luck. 
Q: How should my sizing band fit?
You want your band snug enough you cannot fling it off, but tight enough that someone else cannot pull it off of your finger. 
For women's rings, please tell your jeweler the width you need to be sized for.
Women's sizes, if not a wider design, are typically 4-4.5 millimeters 

The Huntress is right around 2.5 millimeters wide and is my most narrow band. 
If you don't know your size and you would like to order to save your spot in line, please place your order and pick a size 6. Click the customization box and put in the notes that you will send the correct size at a later date. Text me the name your order is under and your order date with the correct size when it is determined. 541-414-7938 
My website only has sizes 6-15 on men's rings. I can literally make any size from 1-30, quarter sizes and anything in-between. If the size you would like is not on my website as an option, please contact me.  
If you have any other questions regarding sizing or anything else. Feel free to give me a call. A text message is best because I usually have machines going and am unable to hear my phone. Thank you, and I hope this is enough information to get the ball rolling. 

Sincerely, Stephen @ Rogue Antler Arts LLC